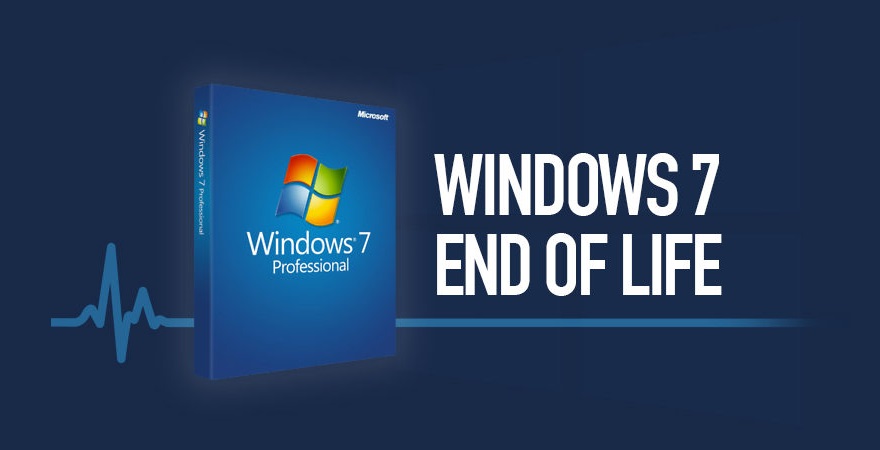 Windows 7 Support Ended On January 14, 2020
Microsoft made a commitment to provide 10 years of product support for Windows 7 when it was released on October 22, 2009. This 10-year period has now ended, and Microsoft has discontinued Windows 7 support so that we can focus our investment on supporting newer technologies and great new experiences. The specific end of support day for Windows 7 was January 14, 2020. Technical assistance and software updates from Windows Update that help protect your PC are no longer available for the product. Microsoft strongly recommends that you move to Windows 10 to avoid a situation where you need service or support that is no longer available.
What does end of support mean for me?
After January 14, 2020, PCs running Windows 7 no longer receive security updates. Therefore, it's important that you upgrade to a modern operating system such as Windows 10, which can provide the latest security updates to help keep you and your data safer. In addition, Microsoft customer service is no longer available to provide Windows 7 technical support. Related services for Windows 7 are also being discontinued over time. For example, certain games such as Internet Backgammon and Internet Checkers as well as Electronic Program Guide for Windows Media Centre are scheduled to be discontinued in January 2020.
What should I do?
For most Windows 7 users, moving to a new device with Windows 10 is the recommended path forward. Today's PCs are faster, lightweight yet powerful, and more secure, with an average price that's considerably less than that of the average PC eight years ago.
Can I upgrade my existing PC to Windows 10?
To take advantage of the latest hardware capabilities, we recommend moving to a new PC with Windows 10. As an alternative, compatible Windows 7 PCs can be upgraded by purchasing and installing a full version of the software.
How can I upgrade to Windows 10 for free?
The Windows 10 free upgrade offer ended on July 29, 2016. To get Windows 10 you will need to either purchase a new device or, if you have a compatible PC, purchase a full version of the software to upgrade your existing device. We recommend that you don't install Windows 10 on an older device, as some Windows 7 devices are not compatible with Windows 10 or could experience reduced feature availability.
What happens if I continue to use Windows 7?
If you continue to use Windows 7 after support has ended, your PC will still work, but it will be more vulnerable to security risks and viruses. Your PC will continue to start and run, but will no longer receive software updates, including security updates, from Microsoft.
Can Windows 7 still be activated after January 14, 2020?
Windows 7 can still be installed and activated after end of support; however, it will be more vulnerable to security risks and viruses due to the lack of security updates. After January 14, 2020, Microsoft strongly recommends that you use Windows 10 instead of Windows 7.
Will internet Explorer still be supported on Windows 7?
Support for Internet Explorer on a Windows 7 device was also discontinued on January 14, 2020. As a component of Windows, Internet Explorer follows the support lifecycle of the Windows operating system it's installed on.
Will Microsoft Security Essentials continue to protect my PC after end of support?
Microsoft Security Essentials (MSE) will continue to receive signature updates after January 14, 2020. However, the MSE platform is no longer being updated.
What if I'm running Windows 7 Enterprise?
If you are using Windows as part of a work environment, we recommend you check first with your IT department or see Windows 10 deployment support to learn more.
What about Windows 7 Embedded?
Windows for embedded devices such as ATMs or gas pumps have lifecycle dates that sometimes differ from versions of Windows that are used on PC devices.
Can I move my existing programs to a new Windows 10 PC?
For the best possible experience, we recommend doing a fresh installation of your programs and apps on your new Windows 10 PC. Microsoft Store has a variety of third-party apps that can be easily downloaded and installed. On your Windows 10 PC, you can open Microsoft Store by selecting the icon on the taskbar or by searching for "Microsoft Store" in the search box on the taskbar.
For any software not currently available in Microsoft Store, we recommend going to that company's official website and downloading the Windows 10 version from there. In limited circumstances, some older software may not have an updated version that's compatible with Windows 10.
How will Windows 7 end of support affect my Microsoft Office apps?
Your experience may be different depending on the Office version you're running. To learn more, see Windows 7 end of support and Office. It's important to note that Windows 7 itself no longer receives security updates, leaving your device vulnerable to security threats. As such, if you're running Microsoft Office on a Windows 7 PC, we recommend you move to a new Windows 10 PC.
Why did I receive a notification about Windows 7?
Support for Windows 7 came to an end on January 14, 2020. You are receiving notifications as a Windows 7 customer to remind you that your device is no longer supported and no longer receiving security updates.  We recommend moving to a new PC with Windows 10.
Source: microsoft.com